Rooter & Drain Services
DRAIN CLEARING • SEWER LINE • TREE ROOT REMOVAL
We are proud to be your local drain cleaning experts. It might be messy but at Absolute Plumbing Solutions, we love to take care of all your drain cleaning needs.

We can effectively clear blockages from sinks that build up with grease, fats, food scraps, bath products, toilet paper, hair, and all other debris. If your drain is clogged or running slowly, act quickly to avoid bigger and messier backups.
Drainage Services
Clogged Kitchen & Bathroom Sinks
Clogged Lavatory Basins & Laundry Sinks
Clogged Bathtubs & Showers
Clogged Floor Drains & Sewer Lines
Clogged Dishwashers & Laundry Appliances
Tree Root Removal
Precious Object Retrieval
Foreign Object Removal
Collapsed/Cracked Drain and Sewer Lines
Sewer Locating
Camera Inspections
Video Drain Inspections
Safe Drain Cleaning Alternatives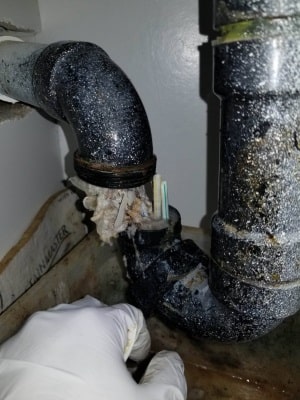 ---
We have the tools to quickly diagnose issues in your plumbing without any guesswork or extra expenses. If you have an unknown issue or a recurring clog, we can solve it. Learn more about Camera Inspections.